Many guests and lots of positive response: The Warnemünde Evenings 2015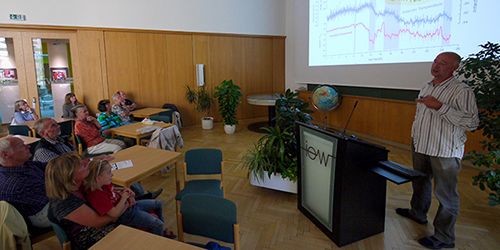 Over the past 18 years, the "Warnemünde Evenings" have become a longstanding, well appreciated tradition: On nine summer evenings between July and September, the Leibniz Institute for Baltic Sea Research Warnemünde (IOW) opens its doors for interested laypersons as well as for experts to present fascinating insights into up-to-date Baltic Sea research. The lecture series mainly includes IOW scientists, but experts from other institutions also contribute to the diverse range of topics.
With an average of 60 people per evening, the season 2015 was very well attended and IOW's big lecture hall always well-filled. The audience, regular guests of many years as well as spontaneous newcomers, showed a keen interest, which led to many lively discussions and a lot of appreciative applause for the speakers. Among this year's highlights were lectures about an expedition with the research vessel POLARSTERN exploring the Antarctic winter, about the big salt water inflow into the Baltic Sea in December 2014, about future trends in marine research, and about the geology of Western Pomerania Lagoon Area National Park.
Next year, the IOW will continue its popular lecture series and is looking forward to a continued interest from the public.