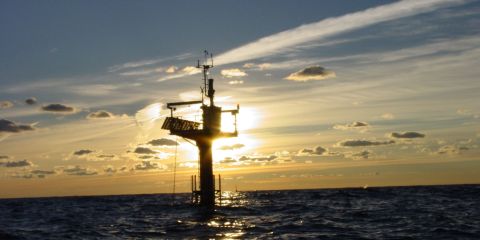 Environmental Monitoring
On behalf of the Federal Maritime and Hydrographic Agency, Hamburg and Rostock, the Leibniz Institute for Baltic Sea Research Warnemuende (IOW) is conducting the German contribution to the monitoring of the Baltic marine environment in the framework of the Helsinki agreement (HELCOM).
An important part of this treaty is a continuous monitoring of the maritime environment by
Marine chemical, physical and biological investigations on five regular annual monitoring cruises
Establishment and maintenance of the marine environment observation network (MARNET) in the Baltic Sea area with actually three autonomous measuring stations
Geological investigations for the mapping of sediment properties and of the sediment pollutant load
The data acquired are used for regular national and international assessments of the state of the Baltic Sea, are analysed in numerous publications, and provide the scientific basis for measures to be taken for the protection of the ecosystem Baltic Sea.
Selected readings are available from cruise reports and maps offered online by IOW for free public access. BSH is the owner of all data gathered in the framework of monitoring. Any desired use of these data by third parties requires the agreement of both BSH and IOW. The annual hydrographical-chemical state assessment of the Baltic Sea is published by IOW in "Marine Science Reports" and is available online by BSH since 2004.