Home run for the RV Maria S. Merian:
Research vessel sets off towards the Baltic Sea ice
for the "Deep Baltic" mission
From February 25 to March 23, 2021, a team of physicists and geologists from Warnemünde, Kiel and Szczecin will be underway in the northern Baltic Sea to investigate the dynamics of winterly deep water circulation. Besides recording the current hydrodynamic conditions near and under the sea ice of the Gulf of Bothnia, the program includes sedimentological and geophysical studies to investigate sediment erosion and deposition characteristics induced by deep-water movement. A further aim is to reconstruct the history of deep water circulation in the northern Baltic Sea during Holocene climate variations recorded in older sediments.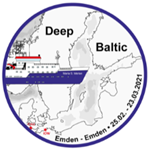 23.03.2021 – Back on land
18.03.2021 – Night owls on board: Looking into the Depth
16.03.2021 – Eye to eye with a living "oxygen indicator"
14.03.2021 – And what happens during the rest of the year?
13.03.2021 – Night owls on board: tireless CTD drivers
13.03.2021 – Sea ice impressions of a scientific assistant
11.03.2021 – Biomarkers: contemporary witnesses of past climates
09.03.2021 – Are we alone here?
09.03.2021 – The microstructure probe on the ice
05.03.2021 – We leave the past and its sediments
and get to the water
01.-04.03.2021 – In search of the "Little Ice Age"
27.02.2021 – Bornholm Basin: Close to the end of the last ice age
26.02.2021 – In the Arkona Basin
25.02.2021 – Departure: From the North Sea into the Baltic Sea
24.02.2021 – It's time to go on board!