Infrastructure of the AG Geochemistry and Isotope Biogeochemistry: Here the laboratory for stable isotope analyses
Head of the Laboratory for Stable Isotope analyses (H, C, N, O, S): Prof.Dr. Michael E. Böttcher
(Contact: Prof.Dr. M.E. Böttcher: michnullael.boettcher@io-warnemuende.de)
In the (Bio)Geochemistry and Isotope Biogeochemistry Group a number of different extraction lines for the sequential chemical separation and enrichment of sulfur, carbon, phosphorous and metal species are available.
Recently we extended our capacity by a RaDeCC instrument to apply Ra isotope signatures in coastal research on submarine ground water discharge (SGD). First results are reported in: von Ahn et al. (2021).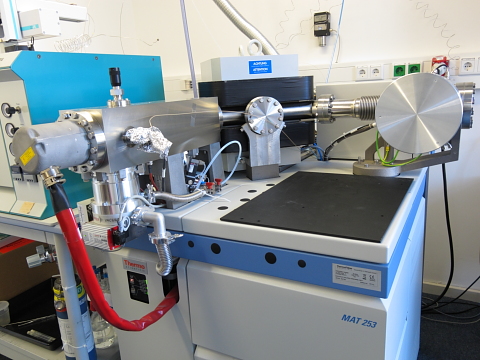 Die Laborausstattung besteht aus einem Finnigan MAT 253 Gas-Isotopenmassenspektrometer (IRMS) der Firma Themo Fisher Scientific, das über ein ConFlo IV-Interface mit diversen Einlasssystemen gekoppelt ist.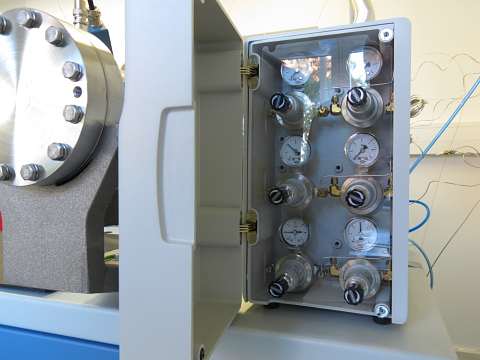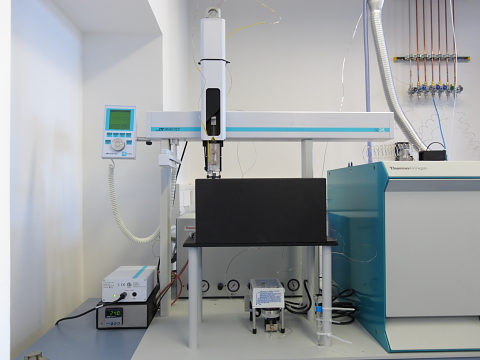 Gasbench II mit PAL-Autosampler
Diese Peripherie wird hauptsächlich zur automatisierten Analyse der δ13C-Signatur von DIC aus wässrigen Lösungen (z.B. Meerwasser, Porenwasser, Flusswasser, Grundwasser oder auch experimentelle Lösungen) genutzt. Des weiteren werden δ13C- und δ18O-Signaturen von Carbonaten (Phosphorsäure-Aufschluss) bestimmt.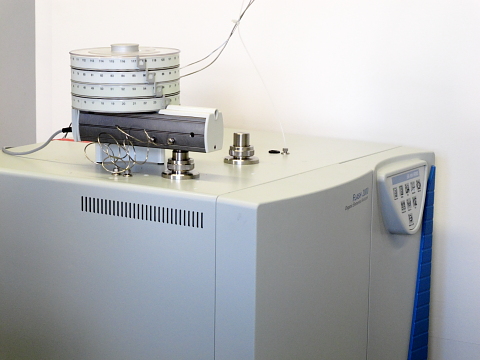 Thermo Scientific FLASH 2000
Dieser Elementaranalysator Flash 2000 in Kopplung mit dem 253 Gas-Massenspektrometer dient der automatisierten vollständigen Verbrennung von Feststoffen. Die δ-Signaturen der resultierenden Gase (CO2, N2, SO2) können anschließend mit dem irmMS bestimmt werden.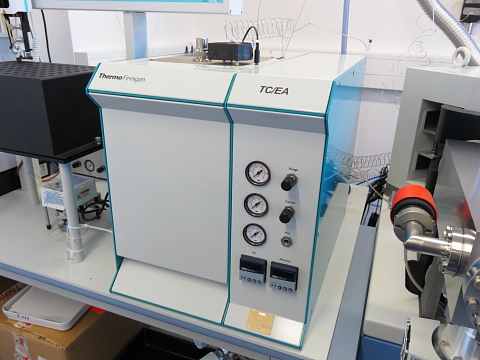 Thermo Scientific TC/EA
Dieses Gerät ermöglicht z.B. die Bestimmung der δ18O-Signaturen von organischen Feststoffen, Sulfat, Phosphat oder von Wasser durch Pyrolyse. Diese vorhandene Peripherie und die damit verbundenen Applikationen werden in Zukunft in den laufenden Laborbetrieb implementiert.
(All photographs on this page: F. Tauber)