News
May and June 2022 New Publications
Mischa Schönke and Co-Authors develop a method to quantify the impact of bottom trawling.
Four detonation craters in the Fehmarn Belt were investigated with a multibeam echosounder for the first time. The raw data are published in the data archive ZENODO and maps of bathymetry, slope angle, and height difference to the surrounding are published in the journal DATA.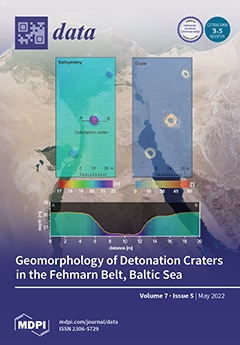 February 2022 New Podcast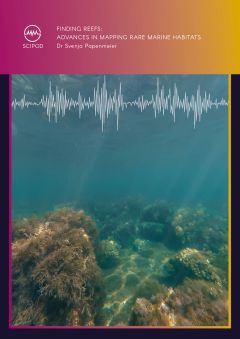 January 2022 New Publication

December 2021 New Project
DAM CREATE: DAM Schutz und Nutzen - CREATE: Konzepte zur Reduzierung der Auswirkungen anthropogener Drücke und Nutzen auf marine Ökosysteme und die Artenvielfalt; Vorhaben: Habitatvariabilität und Bioarchive als Maß für die Habitatintegrität am Beispiel des Reallabor. 01.12.2021 - 30.11.2024. BMBF funded.
October 2021 New Project

OTC Stone: OTC Rostock: Automatische Lokalisierung und Vermessung von Steinen in akustischen Datensätzen mit neuronalen Netzwerken (OTC-Stone). 01.10.2021 - 30.09.2024. BMBF funded.
June 2021 New Publication
In cooperation with our colleguages at the BSH, Peter Feldens, Agata Feldens and Svenja Papenmeier discuss the performance of side scan sonar and multibeam echo sounder system-dervided datasets for automated boulder detection.
The peer-reviewed article can be freely downlaoded
here
.
October and November 2020 New publication
Svenja Papenmeier co-authered two publications:
Bruns et al. (2020): Identifying Trawl Marks in North Sea Sediments. Geosciences, 10, 422. DOI: 10.3390/geosciences10110422
Galvez et al. (2020): Detecting shifts of submarine sediment boundaries using side-scan mosaics and GIS analyses. Marine Geology, 430. DOI: 10.1016/j.margeo.2020.106343
Peter Feldens co-authored two publications:
Xiong, P., et al., Modeling paleogeographic scenarios of the Last Glacial Cycle as a base for source-to-sink studies: an example from the northwestern shelf of the South China Sea, Journal of Asian Earth Sciences (2020), doi: https://doi.org/10.1016/j.jseaes.2020.104542
Miluch, J., et al.. (2020).
Seismic profiling-based modeling of geometry and sedimentary architecture of the Late Pleistocene delta in the Beibu Gulf, SW of Hainan Island (South China Sea), Journal of Asian Earth Sciences, 104611
10.1016/j.jseaes.2020.104611
In addition, a publication dealig with black coral mapping offshore Lanzarote was published, and marks a good start to our participation to the EU project B-CHARMED, dealing with black coral ecosystems offshore the Canary islands https://b-charmed.eu . Two field campaigns concerned with the topic are planned for 2021.
Czechowska,
K., Feldens
, P., Tuya, F.
, Cosme de Esteban
,M., Espino
, F., Haroun
, R., Schönke, M.
and Otero-Ferrer, F. (2020)
Testing Side-Scan Sonar and Multibeam Echosounder to Study Black Coral Gardens: A Case Stud from Macaronesia. Remote Sensing 12, 3244.
July 2020 New publication
Peter Feldens published an article about utilizing deep learning to improve image resolution of acoustic mosaics and thus improve the detection of boulders. The publication is freely available here.
April 2020 New project

For the next two years, IOW's Marine Geophysics participates in the DAM pilot mission "DAM pilote mission - Protected areas Baltic Sea: Effects of the exclusion of mobile bottom trwaling in marine protected areas", providing a geophyiscal and sedimentological characterization of bottom trawling activites.
March 2020 New publication

Svenja Papenmeier and colleagues published a review article about Hydroacoustic Mapping of Geogenic Hard Substrates. The publication is freely available here.
November 2019 New publication

Svenja Papenmeier co-authored a study about Holocene sea-level stability in the southern Laptev Sea. Beach ridge systems along the Siberian Arctic coast were investigated to get information about relative sea level, climate forcing and sediment supply. The publication is freely available here.
November 2019 New publication
The 2nd Edition of the GeoHab Atlas is published. It describes the relationships between geomorphic features and benthic habitats and provides global case studies. Svenja Papenmeier and colleagues contributed a case study about winnowed gravel lag deposits in the German North Sea which are rich in species and associated with legally protected habitats.
October 2019 New publication
In a new publication accessible freely
here
, Mischa Schönke and his co-authors analyse the impact of sparse benthic life on seafloor roughness parameters and high frequency acoustic scatter. The study is part of ongoing results to improve the quantitative interpretation of acoustic remote sensing techniques for habitat mapping.
August 2019 SonarWiz EDU version

IOW received an Educational version of "SonarWiz" from Chesapeake Technology (
https://chesapeaketech.com/
) . We will use the software for postprocessing of acoustic data (subbottom, side scan sonar and multibeam) for seafloor habitat research projects. In addition, the 10 seat software allows an introduction to acoustic data processing for students participating in the yearly student research survey onboard Elisabeth Mann Borgese.
August 2019 New publication

A portable system comprising side scan sonar and high resolution reflection seismics was utilized by scientist of CAU Kiel and IOW to search for an old Norse harbour in a fjord near Igaliku, Greenland. The interdisciplinary study comprising geophysiscs, geology, gemorphology and archeology is now published -open access - and can be found
here
.
July 2019 New project

Over the next three years, the
ATLAS
project will map the coastal areas of Mecklenburg-Vorpommern geologically and biologically. Next to important information for state administration, we hope to apply and improve modern methods of habitat characterisation on larger areas.
May 2019 New publication

Continuing the work on improved detection on stones and boulders in marine habitats, Svenja Papenmeier co-authored a study utilizing a Haar-Like feature approach to detect stones. This approach makes use of the fact that stones in backscatter mosaics cast a characteristic acoustic shadow. The open access publication can be found
here
.
March 2019 New publication

The detection of boulders is an important context in the field of marine habitat mapping. However, the detction of boulders in acoustic data is currently done manually for most applications. This is a time exepnsive and subjective procedure.

Here, we explore the use of a Convolutional Neural Network to automate the detection of boulders, and achieve a performance very similar to that of a human interpreter. Further improvement of performance requires better training datasets, which are currently unavailable.
The article is freely available at:
https://www.mdpi.com/2076-3263/9/4/159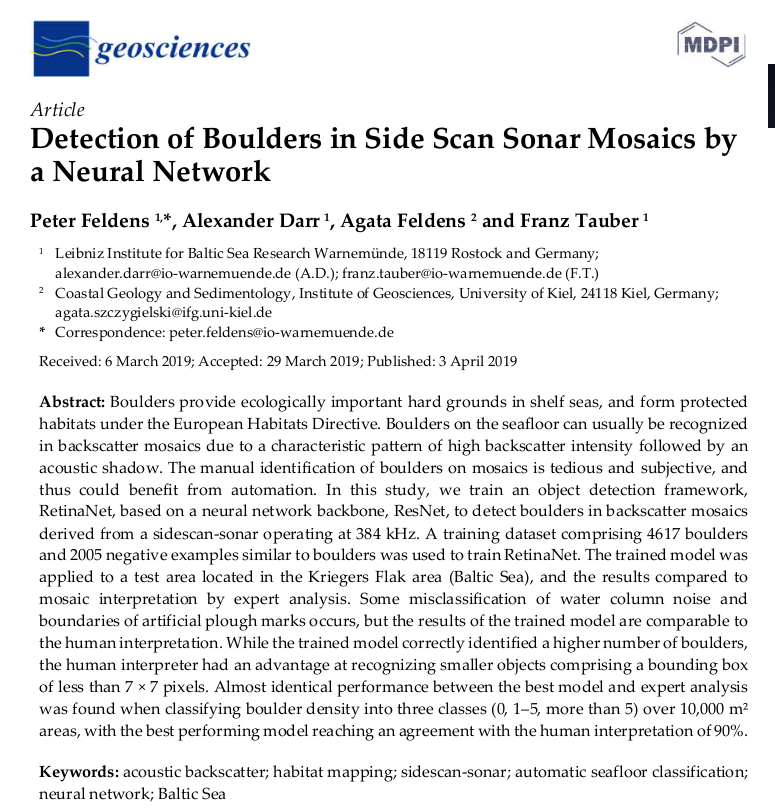 January 2019 - EMB205: ECOMAP winter cruise to Oderbank
After a short ECOMAP cruise on RV Elisabeth Mann Borgese (EMB) to Oderbank in July 2018, it was now time for the complementary winter cruise. In addition to first cruise, members of the IOW-Benthic Biology working group joined the IOW-Marine Geophysics team. This meant not only an increase of interdisciplinary knowledge, but an enhancement of technical possibilities: The brand-new HAPS corer proved to be very efficient in the sandy environment, and the video sledge Baltic Seafloor Imaging System (BaSIS) made an extensive optical ground truthing possible. An improvement of the geophysical equipment was utilization of a calibrated NORBIT WBMS STX, allowing again the recording of a multifrequency backscatter dataset.
Weather conditions were quite nice for a January cruise, so it was possible to collect all data as planned. Now, we are looking forward to analyse the new information, and to bring together the results from biology and geophysics...
August 2018
New publications with participation of IOW's Marine Geophysics:
Kreuzburg et al. ( https://www.frontiersin.org/articles/10.3389/feart.2018.00103/full ) deal with the coastal evolution offshore the Hütelmoor, located close to IOW.
Stevenson et al. (https://www.nature.com/articles/s41467-018-05042-6) reconstruct the sediment concentration of a large submarine gravity flow that happened in 1929.
June 2018 - New article published
A new paper exploring the use of multi-frequency multibeam for the identification of subtle seafloor fratures was published in the special issue "Geological Seafloor Mapping" of the journal geosciences. The paper is open access and accessible here: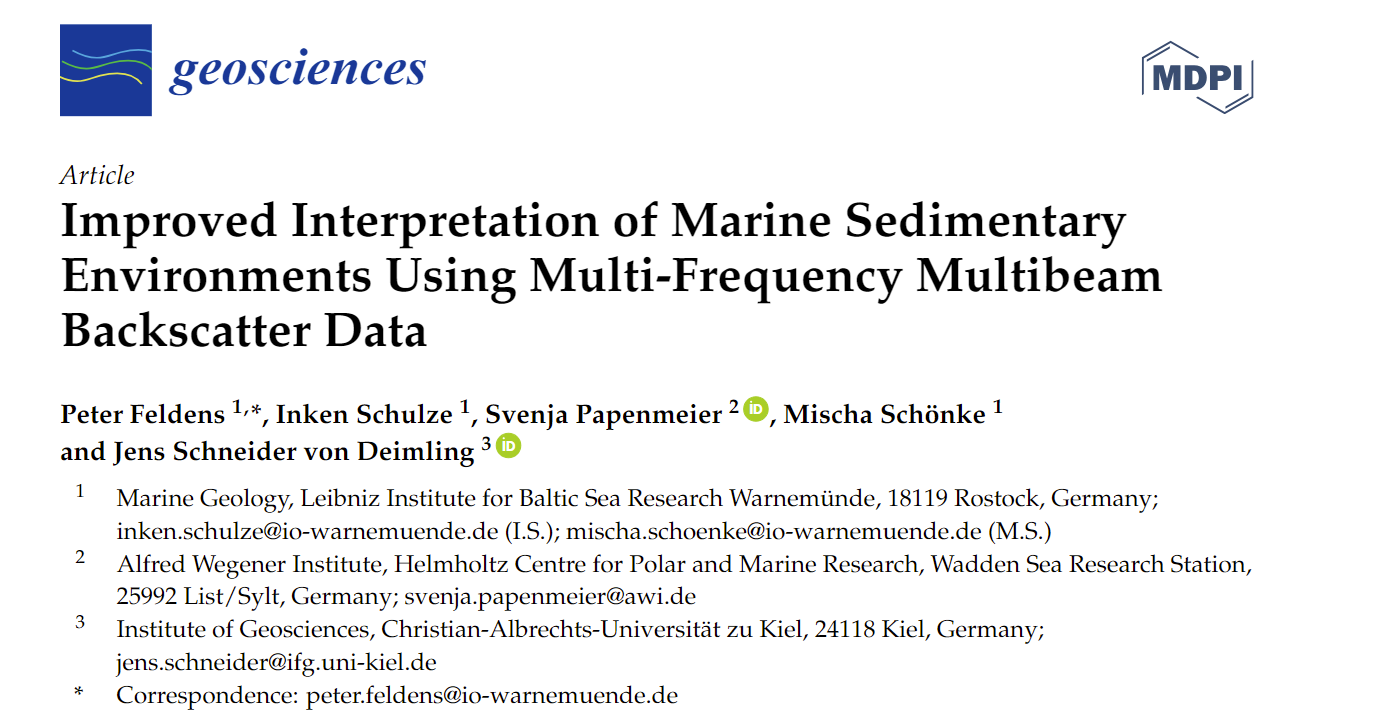 May 2018 - GEOHAB 2018

A large part of the BONUS ECOMAP team gathered in Santa Barbara, California, to attend the 2018 GEOHAB conference. Prominent topics during the meeting were calibrated multi-spectral backscatter measurements, and the need to create a spectral catalogue detailing the appearance of different seafloor types. Inken Schulze's participation and talk concering multispectral multibeam surveys during the conference was supported by a Ron McDowell student award.
February 2018 - Research cruise EMB176 completed
A 10 day cruise targeting the Darss Sill in the south-western Baltic Sea was successfully completed. During the cruise, we collected new data, extending the area that was mapped by the Bundesamt for Seeschifffahrt and Hydrographie (BSH) into shallow waters. We expect that the new data will give insight into the Holocene evolution of the Darss Sill. Apparently, the morphology of the Darss Sill was shaped by a number of erosional events. However, details on cause, timing and magnitude of these events are currently poorly understood. The attached image shows side scan sonar data that gives information about seafloor composition, processed by Franz Tauber, on draped on a bathymetric map of the Darss Sill area.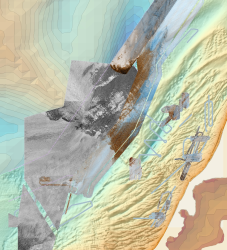 December 2017
The Bonus ecomap PINGO platform launched:
https://bonusecomappingo.wikispaces.com/
. PINGO presents the online knowledge dissemination platform of the EU funded BONUS project ECOMAP (
http://www.bonus-ecomap.eu
) that started in September 2017.
Over the coming years, we will here built up a knowledge base valuable for researchers, authorities, remote sensing manufacturers, and survey companies. It highlights experience on newly developed devices, data examples about calibrated acoustic and LiDAR backscatter data, and shows the potential also by latest data processing techniques developed in ECOMAP. For example the MBES snippet backscatter data is of great interest to surveying companies for cable route pre-surveys and the discrimination of stone-reefs against outcropping till. Improved subbottom techniques are of great interest to the cable route surveying industry, and also valuable for archaeological tasks. Improved remote sensing of the water column as suggested in ECOMAP will facilitate nautical least depth detection of ship wrecks and is of general interest for the fishery industry. The new data will be documented together with workflows and respective processing, filtering, and visualization algorithms by open source computer code for download for the community.
November 2017
Ecomap officially commences with Kick-Off meeting in Kiel. Over the next three years, we will work to improve marine remote sensing with regard to geologic and biologic habitats.
Further information:
http://www.bonus-ecomap.eu/
October 2017 - Surveying the Hütelmoor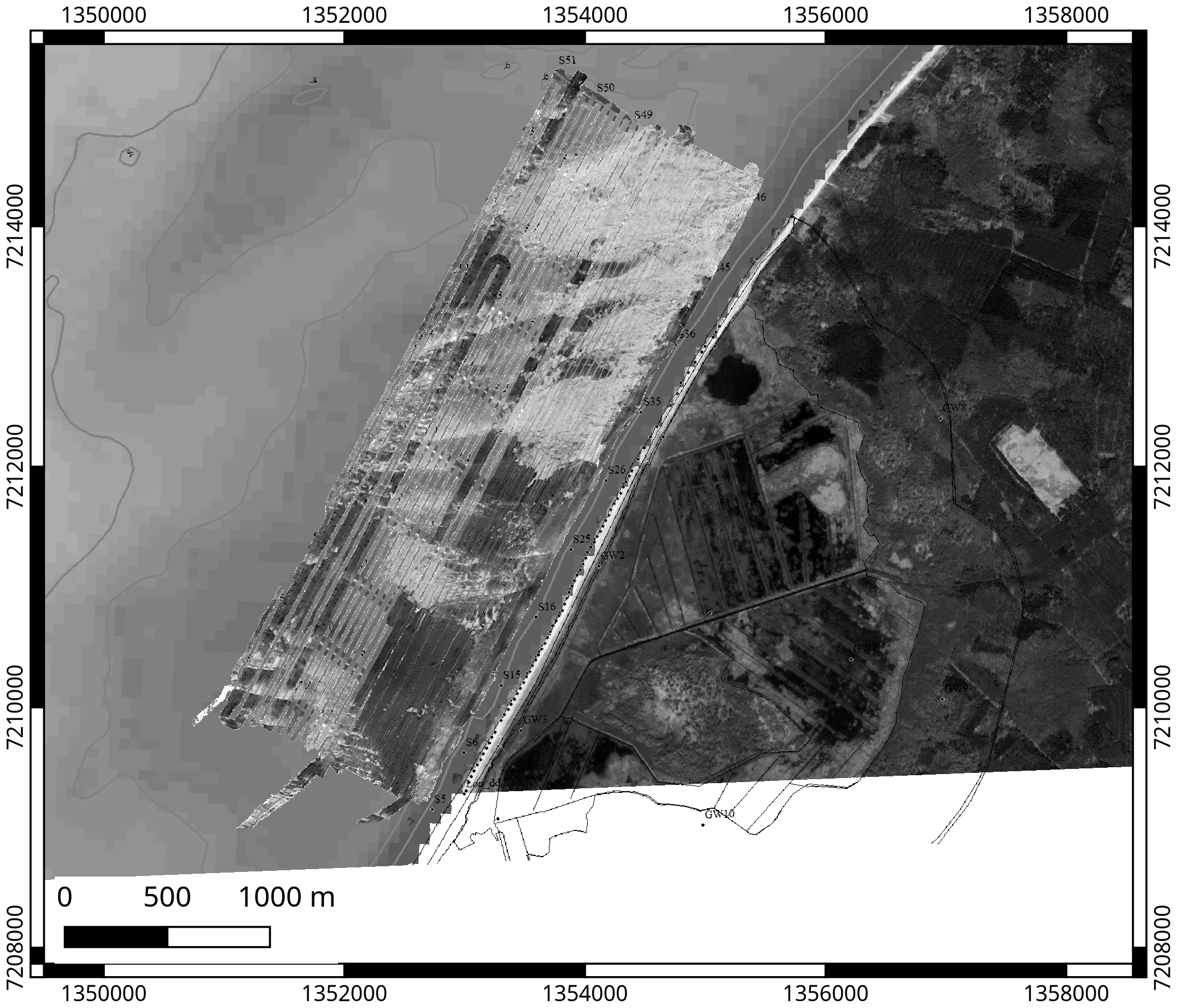 Map of backscatter intensities offshore the Hütelmoor as an indication of seafloor composition. Brighter colours correspond to coarser sediment.
The acoustic and geological surveys offshore the Hütelmoor are finised for 2017. The resulting data will be used to reconstruct the Holocene evolution of the coastline, and will serve as a basic dataset for work within the BALTIC Transcoast project.
October 2017 - New publication
To improve the use of proxies derived from acoustic remote sensing data, the impact of the survey geometry must be understood. The importance of the incidence angle for textures in acoustic-derived images is the topic of the new article "Sensitivity of texture parameters to acoustic incidence angles in multibeam backscatter", published within the IEEE Geoscience and Remote Sensing Letters.

September 2017 - ECOMAP starts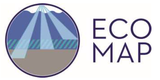 The EU funded project ECOMAP commenced on Sept. 1st. Within the project, we will explore new ways to utilize acoustic data to identify and monitor benthic habitats. More information:
BONUS ECOMAP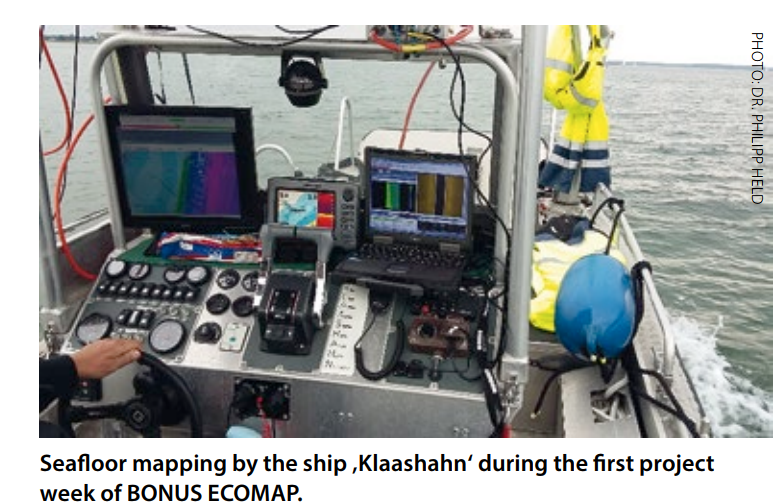 July 2017 - Survey Prerow Bank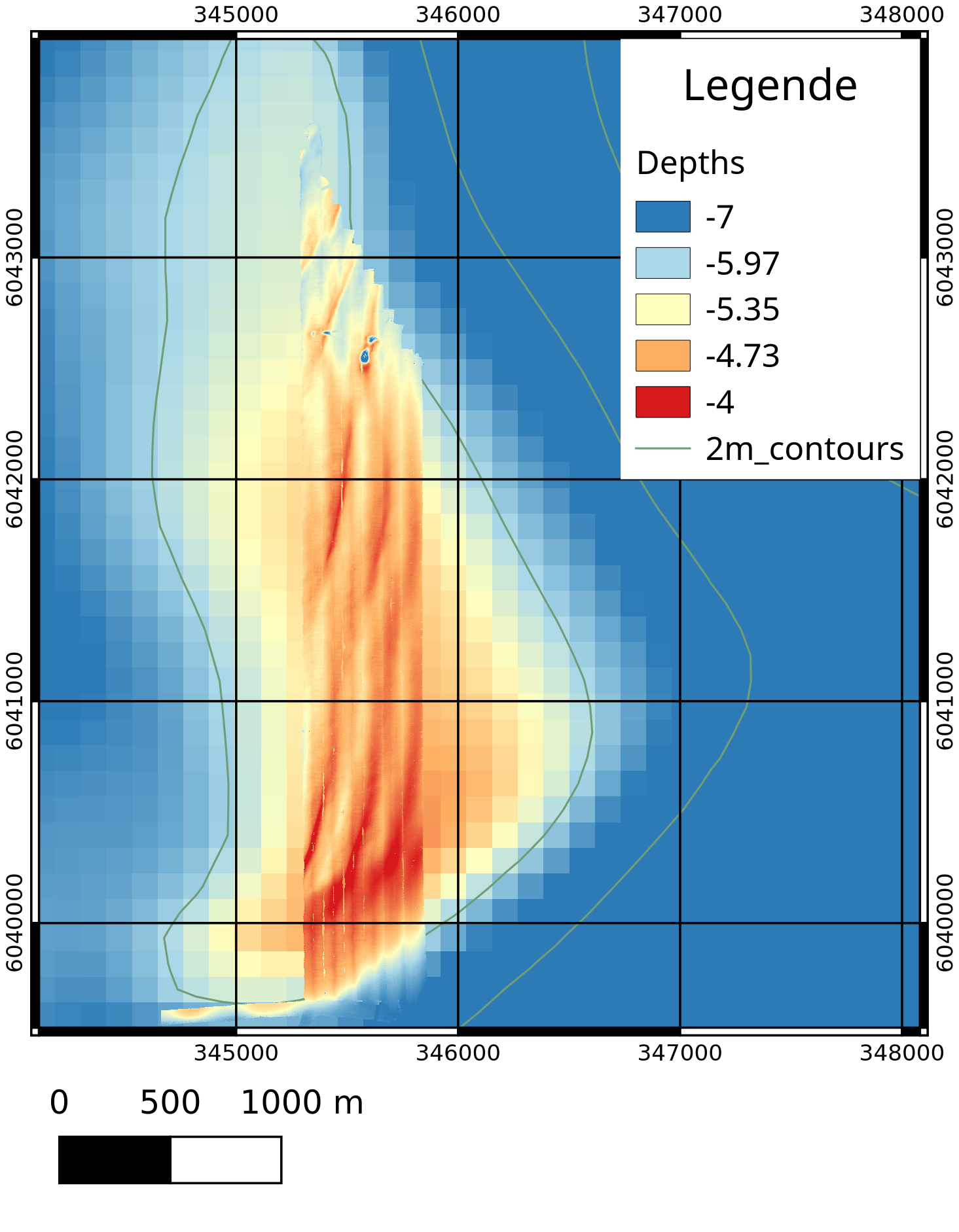 One survey day worth of data above the prerow bank. The difference in resolution and the appearance of new morphological features when compared with available low-resolution bathymtric data is readily apparant.
In cooperation with the "Nationalparkamts Vorpommern", a bathymetric and geologial survey of the Prerow Bank started. The aim is to better understand the morphological development in response to the Holocene Sea level rise and recent sediment dynamic of this protected seascape.
June 2017 - Rostock's Eleven 2017
Mischa Schönke was awarded ffirst place of the science competition "Rostock's Eleven 2017" for his talk with the title "Wie klingt ein Wurm" [Sounds of a worm], presenting results of his research concerned with the improvement of marine benthic habitat mapping. Some results are published: https://link.springer.com/article/10.1007/s00367-016-0491-1
Focus
The working group "Marine Geophysics" within the Marine Geology section of IOW is concerned with imaging the seafloor and the upper 50 m of the subsurface using a combination of geophysical und sedimentological methods.
A key topic of our research is the improvement of optical and acoustical remote sensing techniques used to identify and monitor geological and biological parameters of seafloor habitats in shallow waters. Further research questions are concerned with the reconstruction of the Pleistocene and Holocene evolution of sedimenary systems in marginal seas in response to climate change and sea level fluctuations. Our research is primarily conducted in the Baltic Sea, but also the North Sea, North Atlantic and the Red Sea.