Dr. Svenja Papenmeier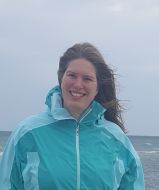 Address:
Leibniz-Institute for Baltic Sea Research
Seestrasse 15
D-18119 Rostock
Germany
Phone:
+49 381 5197 371
Fax:
+49 381 5197 352
E-Mail:
sven
ja.papenmeier@io-warnemuende.de
Expertise
Hydroacoustic habitat mapping in North and Baltic Seas and in North Siberian lagoon systems
Development of hydroacoustic mapping standards for marine sediments and bedforms: Guideline for Seafloor Maping – BSH – Nr: 7201
Creation of standardized sediment distribution maps on basis of backscatter mosaics for the German North Sea: GeoSeaPortal
Development of automatized procedures to map stones
Coastal dynamics and long term analysis of dynamic bedforms (German Bight)
Characteristics and dynamics of sediments and suspended matter in estuaries (Elbe, Ems, Weser)
Marine geology and sediment dynamics: Paleogeography and sedimentary infill of the Paleo Elbe Valley, postglacial development of the North Sea bed (Sylter Außenriff)
Projects
OTC Stone: OTC Rostock: Automatische Lokalisierung und Vermessung von Steinen in akustischen Datensätzen mit neuronalen Netzwerken (OTC-Stone). 01.10.2021 - 30.09.2024. BMBF funded.
DAM CREATE: DAM Schutz und Nutzen - CREATE: Konzepte zur Reduzierung der Auswirkungen anthropogener Drücke und Nutzen auf marine Ökosysteme und die Artenvielfalt; Vorhaben: Habitatvariabilität und Bioarchive als Maß für die Habitatintegrität am Beispiel des Reallabor. 01.12.2021 - 30.11.2024. BMBF funded.