Dr. Kathrin Fisch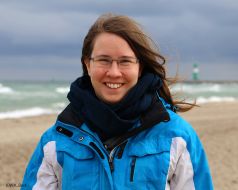 Address:
Leibniz-Institute for Baltic Sea Research
Seestrasse 15
D-18119 Rostock
Germany
Phone:
+49 381 5197 356
Fax:
+49 381 5197 302
E-Mail:
kath
rin.fisch@io-warnemuende.de
I am currently coordinating the joint project SAARUS (FS4). It is known that a large proportion of ship-based particle emissions enter the atmospheric and maritime environment unhindered. At the IOW we investigate particles for organic pollutants (e.g. PAHs), metal residues, elemental composition and ecotoxicological hazard potential.
I also participated as a Post-doc in the project MEGAPOL (FS3, FS4) and my research interest is the analysis of mordern pollutants in the marine environment. My current interest is the partioning of pharmaceuticals, personal care products (e.g. UV-filters) and pesticides between the sediment and water phase. My working area is the South China Sea.
During my Phd, I worked on developing methods (SPE, HPLC-MS/MS) for detection and the analysis of these modern pollutants in marine ecosystem.
Expertise
analysis of modern pollutants (pharmaceuticals, UV-filter, pesticides) in the marine environment
methods SPE, HPLC-MS/MS, ASE
method development
planing, execution and data analysis of experiments
working at sea