Karoline Rummel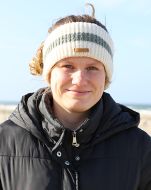 Address:
Leibniz-Institute for Baltic Sea Research
Seestrasse 15
D-18119 Rostock
Germany
Phone:
+49 381 5197 0
Fax:
+49 381 5197 440
E-Mail:
karo
line.rummel@io-warnemuende.de
Expertise
I am a PhD student in Physical Oceanography working on the physical processes in estuaries, especially salt intrusion. By means of numerical simulations with the General Estuarine Transport Model (GETM) I analyse anthropogenic and natural influencing factors on the salt transport.
Furthermore, I am interested in the application of machine learning methods to problems in coastal oceanography.