Mariano Santoro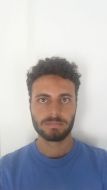 Address:
Leibniz-Institute for Baltic Sea Research
Seestrasse 15
D-18119 Rostock
Germany
Phone:
+49 381 5197249
Fax:
+49 381 5197 440
E-Mail:
mari
ano.santoro@io-warnemuende.de
My PhD project is carried out within the doctoral school of Leibniz Science Campus Phosphorus Research Rostock (CyanoBloom P.IV.III). I aim to understand which role is played by inorganic phosphate in the development of cyanobacterial summer blooms in the Southern Baltic Sea. For this purpose, I focus my work on the species Nodularia spumigena by cultivating it for laboratory experiments and by sampling it during its summer blooming events. The study at the cellular level and the use of cutting-edge instruments for environmental sampling will help to get more insights on how the cyanobacterial community dynamics are regulated by this essential nutrient in the study area.