Dr. Jurjen Rooze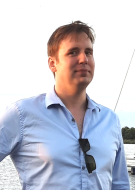 Address:
Leibniz-Institute for Baltic Sea Research
Seestrasse 15
D-18119 Rostock
Germany
Phone:
+49 381 5197 0
Fax:
+49 381 5197 440
E-Mail:
jurj
en.rooze@io-warnemuende.de
About
I am a postdoctoral researcher at the Leibniz Institute for Baltic Sea Research Warnemünde. Using process-based models, I study the interaction of sedimentary processes with anthropogenic/natural disturbances, ecosystems, and climate.
Research Topics
The effects of bottom-trawling and natural disturbances on early diagenesis.
Reconstruction of early diagenetic dynamics in the past based on sediment records.
Submarine groundwater discharge and cold seep environments.
Isotope biogeochemistry.
Methods
Development of numerical, process-based reaction-transport models.
Data handling, various statistical methods, model callibration.