Leonie Barghorn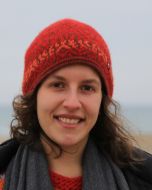 Address:
Leibniz-Institute for Baltic Sea Research
Seestrasse 15
D-18119 Rostock
Germany
Phone:
+49 381 5197 0
Fax:
+49 381 5197 440
E-Mail:
leon
ie.barghorn@io-warnemuende.de
Expertise
As a PhD student in the department of Physical Oceanography, I study saltwater inflows from the North Sea into the Baltic Sea, mainly with help of long model simulations. I am particularly interested in small- and medium-sized saltwater inflows since they are not yet as well studied as the "Major Baltic Inflows". One aim of my thesis is to find out whether and how the anthropogenic climate change impacts saltwater inflows (size, frequency, seasonality,...). Saltwater inflows are not only interesting for physicists but also important for the ecosystems of the Baltic Sea since they provide fresh oxygen to the oxygen-depleted deep layers of the central Baltic Sea.
I am part of the working group Dynamics of regional climate systems.